"Our new brake package is not just a copy of the original. We redesigned every aspect to provide easier installation, better stopping power, simpler brake system bleeding and much less maintenance. These brakes are for owners who want the vintage look of the original, but actually want to drive their cars without all the maintenance.
To put them to the test, we built 5 brand new hot rods, all equipped with our Kinmont Safety Stop brakes. We drove them over 3,000 miles from Gadsden to the L.A. Roadster – through pouring rain, steep mountains and scorching deserts. All without a single brake issue. Our brakes are tested tough! " – Alan Johnson
The look of the original Kinmont Safe Stop brakes is prized by hot rodder's everywhere. What's often forgotten is that they are terrible at stopping a car.
Over the past two years, we have worked to design and manufacture a brake set with those same great looks that actually has stopping power. We took the original one step further, so we call them the JHRS Kinmont "Safety Stop" Brakes. They combine the vintage look of the original Kinmont Safety Stop disc brakes with the stopping power of modern disc brakes. They also include internal features that make them easy to bleed and maintenance-free.
The Johnson's Kinmont brake is designed around the venerable '37-'48 Ford spindle and uses a 10.5˝ vented rotor with a four-piston caliper. The aluminum caliper is equipped with proper internal dust caps and seals and the pistons are stainless steel. The overall design allows for easy assembly and access to the bleed valves. The drum cover and backing plate are precision cast and available in natural cast or polished finish. The billet aluminum hubs are available in three patterns to fit most wheel configurations.
There are other Kinmont replica brakes out there, but ours are easier to install, bleed and maintain. And, if you get caught in the rain, you don't have to spend the rest of day cleaning and drying them to make sure they'll last. Ours brakes have what it takes to last and look great for years to come – 304 stainless steel and seals in all the right places.
Step up to JHRS Kinmont Safety-Stop Brakes
JHRS Kinmont Safety Stop Brakes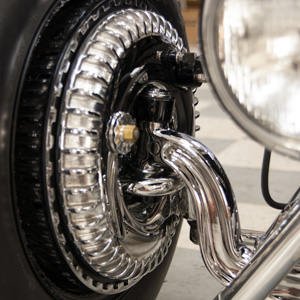 Brake Kits are available for 5-lug Ford/GM bolt-circle applications. Rear brake kits available in Ford 5x4.5 bolt-circle application only.
| | | | | | |
| --- | --- | --- | --- | --- | --- |
| part # | option | material | finish | price | cart |
JHRS Kinmont Safety Stop Brakes
Brake kits are available for pin drive, knock-off hub applications.
| | | | | | |
| --- | --- | --- | --- | --- | --- |
| part # | option | material | finish | price | cart |